Tarakan, which is the largest city in North Kalimantan, is located on Tarakan Island, a small island east of Kalimantan Island. The city is divided into 4 districts namely West Tarakan, East Tarakan, North Tarakan and Central Tarakan. The first impression of this city for most visitors is hot, free of traffic and friendly people.
Visiting Tanah Kuning Beach
TARAKAN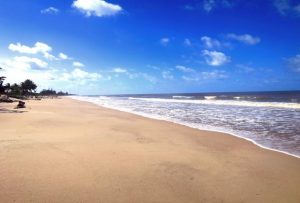 The next thing to do is visiting Tanah Kuning Beach. To go to Tanah Kuning Beach, visitors can board a speedboat that departs from Tengkayu Port I. The length of the trip is about 90 minutes. Tanah Kuning Beach has a stretch of white sand that attracts the eye. The coastline has a length of about 2 km with a width of about 75 meters.
Visiting Conservation Area of Mangrove and Bekantan
TARAKAN
 The atmosphere is shady, comfortable, cool, and full of birds chirping. No wonder the conservation area becomes a favorite place of Tarakan residents.
By walking along a wooden bridge, visitors can see various types of mangroves and also Bekantans that relax in the trees. Bekantan is a rare species that can only be found in Kalimantan.
Visiting Karungan waterfall
TARAKAN
 The waterfall is close to downtown, only about 30 minutes drive. Although Karungan Waterfall is not as high as waterfalls elsewhere, this place is always crowded on weekends.
Around the waterfall there are many plants grown to improve the welfare of the surrounding population such as mango, durian, rambutan and cloves. Visitors do not need to worry about hunger here because there are many food stalls around the waterfall.
Visiting Wana Wisata Persemaian
TARAKAN
Wana Wisata Nursery, which is under the forestry service, is a place for plant nurseries to preserve biodiversity. Plants from different regions of Indonesia are cultivated here.
This place is not far from the city center so it is suitable for family vacation spot. Children will love to play in the children playground here. Visitors can also do outbound or camping. Organization of nature lovers and Scouts often hold activities here.